Hoya Plant Sales – Proceeds to Ukraine

Some of you may be familiar with fundraising that Martha Melling of North Vancouver has been spearheading for the people of Ukraine. Martha, an active member of the Gardeners of the North Shore and North Shore Garden Group facebook groups, has rallied many North Shore gardeners to help her in her efforts. She has inspired so many of us by what she has achieved to help the orphans rescued from the war zones in Ukraine.

Martha and team have been raising funds for much needed food, clothing, and supplies. These funds are then passed to Marta Orellana, a North Vancouver teacher, who orders supplies on Amazon for delivery to her contacts within Krakow, Poland. These supplies are unpacked, photographed and labelled and a small group of volunteer drivers deliver them to orphanages in Ukraine. These drivers coordinate with a larger non-profit MOCNA fundacja (translates to Strong Hands) in convoys across the border to Ukraine.

Many North Shore gardeners are answering Martha's call for help in fundraising and I too wanted to help. I am an AVID Hoya grower. I grow Hoyas for fun and have close to 100 varieties, most of which have been imported from Thailand. I have propagated many of these plants and had plans to sell some of them to recover some of my costs. However seeing the great work that has been done by Martha and team, I'd like to offer these plants for sale to support her. I am donate 100% of the proceeds to Martha's fundraising efforts.
A little about the plants. Hoyas are pretty easy to grow. They require only moderate light and typical room temperatures. The flowers, known as 'wax flowers', can be quite fragrant (depending on the variety). I grow them in a semi-hydro medium known as LECA. LECA are small clay balls that wick up water and nutrients. The plants roots grab on to the LECA and grow amazingly well. With LECA, one must add some liquid plant food at about 1/4 strength when watering since LECA itself has no nutrients. These are not your normal everyday Hoyas. They have mostly been imported by me or purchased from an importer and then propagated. They are unusual varieties and not ones you're will find locally, even in specialty nurseries. These plants have been developing for a minimum of 4-6 months and are well established. I suggest google each variety to learn of their unique traits.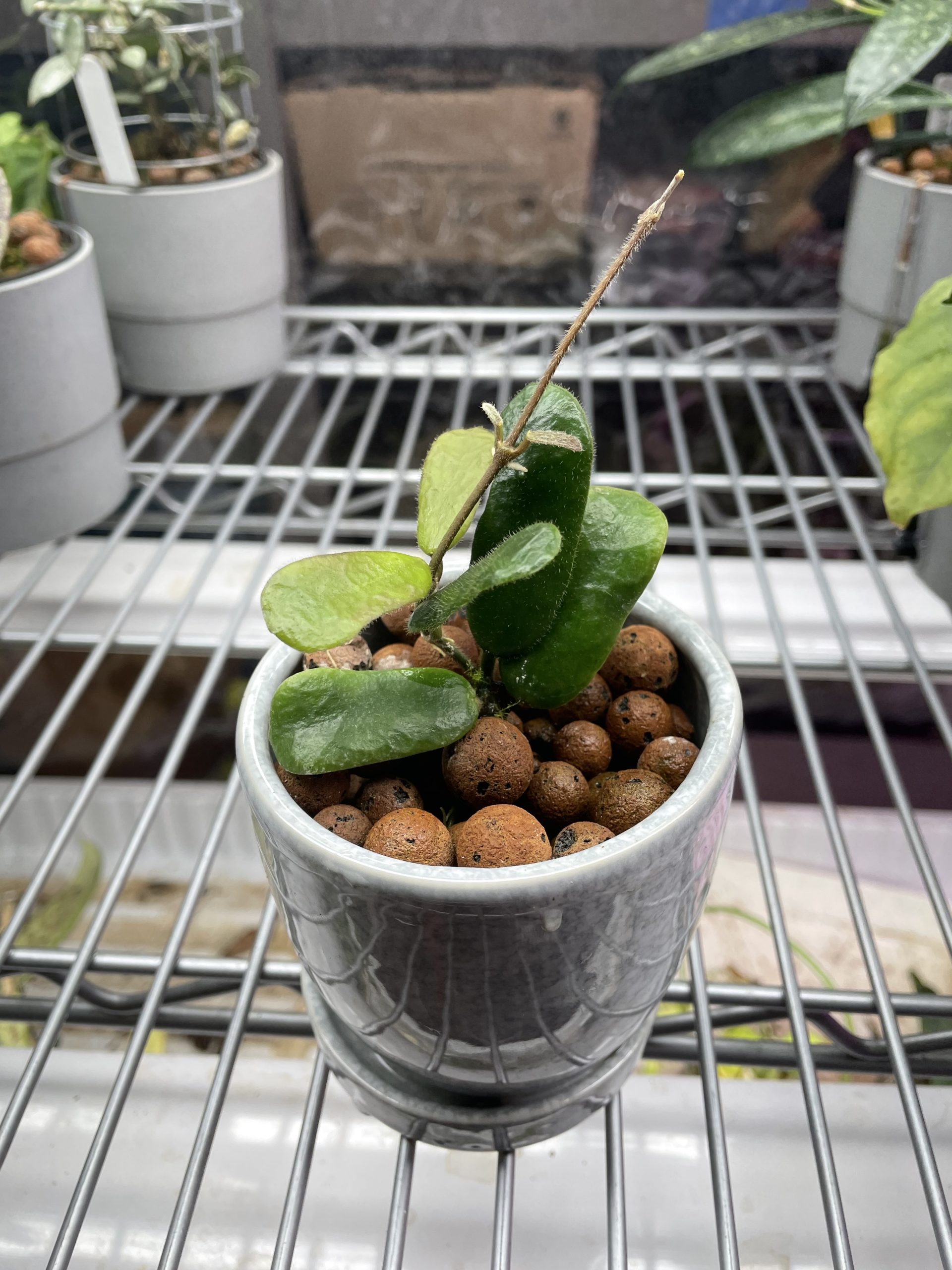 I am offering plants in pots that were generously donated by Maple Leaf Garden Centre in West Vancouver (amazing). All you need to do is just keep the LECA moist.. usually maintaining 1/2″ of water in the bottom. The LECA will do the rest! I will provide a name tag, the pot, and the LECA and as much advice as you like. All you have to do is water them and enjoy. You may see moss growing on the LECA. This is because I only water with rainwater and this can lead to moss growth. This doesn't harm the plants at all. I actually believe there is some sort of beneficial effect based on how well they've been growing. You do not need to use rain water. Tap water is fine (with mild plant food). Hoyas can be grown as hanging plants or you can train them up on wires etc. You'll notice some are longer than others which is related to their age or growth habit, or both.
These plants make great gifts for plant lovers and collectors alike. This is an opportunity to acquire a rare and beautiful Hoya plant without having to go through the often costly and time consuming acclimatization process (if the plant even survives) and you're helping a great cause.
These plants are priced starting at $15 based on their size and rarity. I propagate them in plastic cups as you will see in the pictures however I will transfer them to the nice pots from Maple Leaf Garden Centre (a variety of pots) once ordered. You have the option of using your own pot and I will provide some extra LECA if you wish. All plants available have active growth points – very happy plants! Please let me know if you have any questions about these plants or how to grow them.
Instructions: Click on the 'Available Plants' button. This will show you all available plants and prices. If you wish to purchase one, please make note of the number of the plant and let me know. You can contact me through Facebook Messenger or reach me at tnosella@gmail.com.
N/A